Roasted Beet Hummus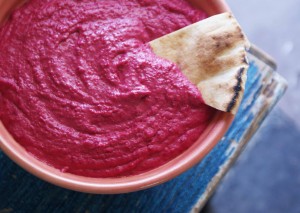 A brightly colored dip that's high in protein and fiber. Even kid's will love the slightly sweeter flovour.
Categories:
Ingredients
1-2 beets
1 19 oz (540 mL) can chickpeas, rinsed and drained
1 large garlic clove, peeled
juice of a lemon (2-3 Tbsp, or to taste)
1/4 cup thick plain yogurt (optional)
2 Tbsp tahini
1/2-1 tsp cumin
1/4 tsp salt, or to taste
2-4 Tbsp olive oil
Directions
1. Wrap the beets in foil and roast at 350ºF for an hour, or until tender (you can tuck them in as you bake other stuff).
2. Cool, peel and slice into chunks.
3. Put everything but the olive oil into the bowl of a food processor and purée, pouring the olive oil in through the feed tube as it blends, until smooth. Taste and adjust seasoning (salt, lemon juice, cumin) as you need to. If it's too thick, add more olive oil, yogurt or water.
4. Serve immediately or refrigerate for up to 4 days before serving. Makes about 2 1/2 cups.
Nutritional Information
N/A:,